What is a Smartflower(or "Solar Sunflower")?
The Smartflower, or Solar Sunflower, is a blend between solar panels and art. It is a photovoltaic (PV) system that has been incorporated to bring visibility to solar technology, and at the same time to enhance the landscape and architecture they complement via aesthetics. 
Smartflowers have been modeled like a sunflower, and they have all the individual components, including solar panels, inverters, wiring, batteries, and others to generate electricity and store it.
Besides generating solar energy, another objective of installing smartflower is to create public awareness and increase the adoption of renewable energy.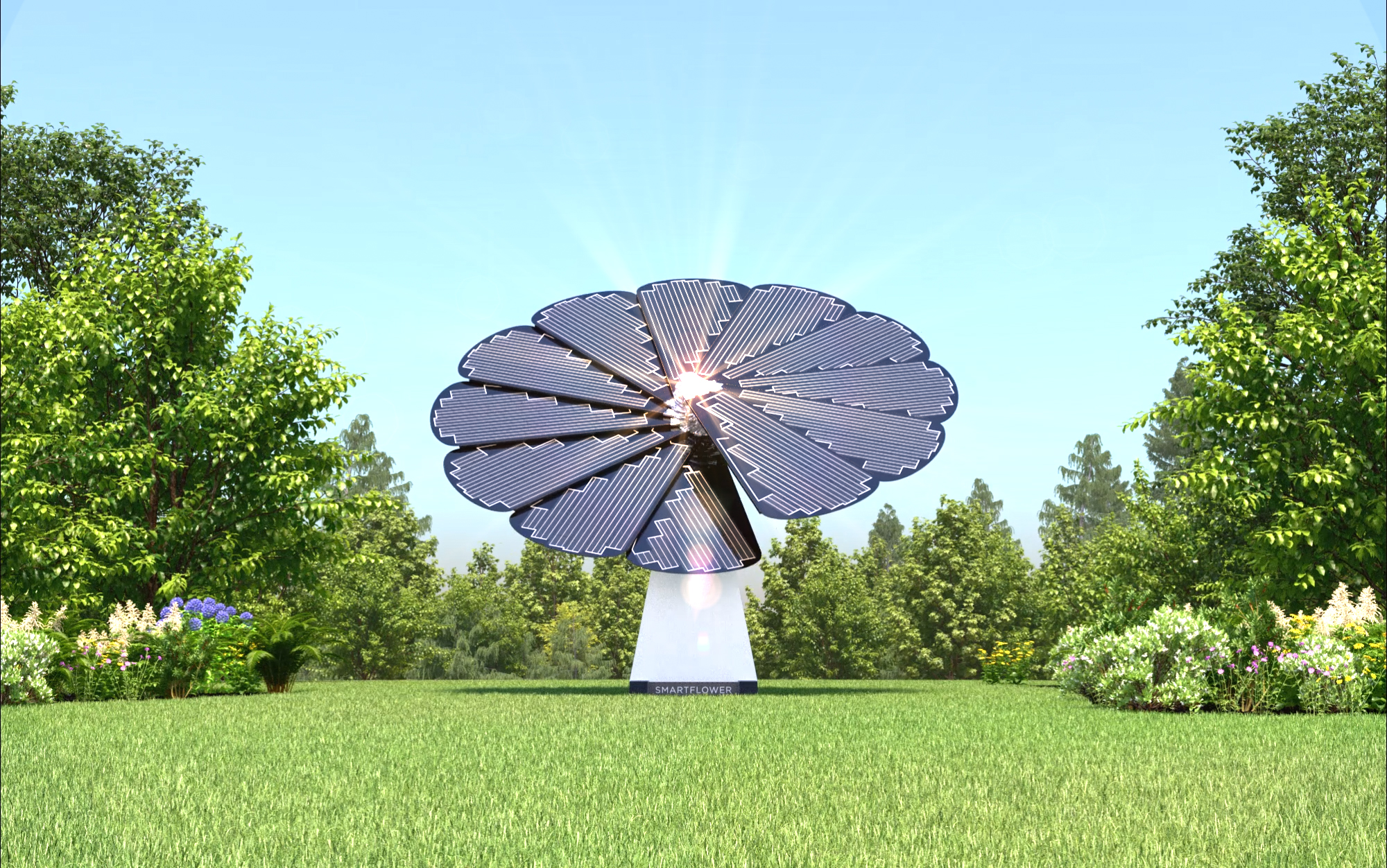 Photovoltaic systems like smartflowers are not typical primary sources of energy for a property, which is fulfilled by traditional rooftop solar panels. Solar flowers work as complementary to rooftop solar systems or various other green building techniques, and symbolizing the environmental benefits of renewable energy.
Similar to a sunflower, smartflower systems unfold their 12-petal panels at sunrise, move toward the sun at a 90-degree angle, and almost immediately start producing electricity. As smartflowers are equipped with the dual-axle sun tracking, the system tracks the sun throughout the day.
During the sunset, the petals of a smartflower automatically fold until the next morning. The petals also retract when the wind speed is around 30 miles per hour, which protects the system during high winds or storms. Smartflower systems can even withstand the destructive wind speed of hurricanes.
Background
The concept of SmartFlower was motivated by the sight of a sunflower that turns to sun and follows it throughout the day. 
The technological breakthrough of designing the first smartflower occurred with the system design by Alexander Swatek and Thomas Daubek. Later Alexander Swatek, Peter Matisovits and Christoph Schöndorfer established SmartFlower™ Energy Technology GmbH in 2010, with headquarters in Güssing in Burgenland and Vienna. 
In 2013, after three years of planning, designing, and reworking, Tobias Legerer, the Heading of Marketing, SmartFlower™, along with Alexander Swatek, Thomas Daubek and others, presented the concept of smartflower for the first time at the Intersolar in Munich. The first systems were already dispatched to retailers and end-customers. During 2014, the company's plan was to sell nearly 1,000 or more units.  
Customers were particularly impressed by the easy installation and handling of the smartflower. It is because the system mostly works autonomously. In the morning, the solar system unfolds its petals towards the sun and keeps moving with it during the day with the help of a GPS-controlled, double-axis system. This is why a smartflower always ensures the optimum output. The annual output of nearly 3,500-kilowatt-hours can meet the needs of an average three-to-four person household. 
The Smartflower is a freestanding solar system, which is about 15.5 feet in diameter when the petals are fully extended. The entire structure is nearly 194 square feet and produces approximately 2.5kW of electricity during peak sunlight conditions. The output of a smartflower plant is between 3,400 and 6,200-kilowatt-hours annually, depending on the region. This output is almost equivalent to the power consumption of an average household.
The US subsidiary of Smartflower was operating from Boston, MA since 2016. 
Smartflower Features
Smartflower is the first comprehensive solar system, which works through a simple plug-and-play like any regular home appliance. The Smartflower was developed by SmartFlower™ company through innovative construction and the perfectly synchronized components.
The key features of Smartflower are below:
Works like a Sunflower: When the sun rises in the morning, the smartflower unfolds its petals automatically, direct its modular solar fan towards the sun and starts generating electricity. Because of the dual-axle sun tracking, the fan moves along with the sun during the day. 
Easy to Install: Smartflower provides utility as an all-in-one system and becomes operational within an hour. There is no complex assembly required to install the system as it is firmly bolted to the ground or to a concrete base at the location. The system has been designed for optimum performance, and it is easy to use and maintain. 
Usage: Some of the common usage of Smartflower energy are water heating, making coffee, and running.
Also, with a day's output, consumers of Smartflowers can do the following:
Charge an electric vehicle that can drive up to 62 miles

Charge as many as 2,400 smartphones

Binge watch 360 hours of television

Wash nearly 17 loads of clothes

Power LED lights for over 4,300 hours.
Smart Tracking: Due to the integrated astronomical control system, the modular solar fan of Smartflower moves both horizontally and vertically as the sun changes its position, regardless of a cloudy sky. This particular feature ensures optimum alignment with the sun, which is an exact angle of 90°. It works like this throughout the day, even when the sun is down on the horizon during the winter. 
Self-cleaning: Smartflower cleans itself up of dust or snow by folding and unfolding itself. Due to this, loss of energy output is minimized (up to 5%). So, Smartflower is like a self-cleaning device.
Smart Cooling: Solar modules that heat up produces less electricity than cooling modules. If the temperature is 10°C more, the loss of output will be 5%. Smartflower modules always remain rear-ventilated, and hot air cannot build up because of their construction. It means smartflower modules are 10–20°C cooler and produce 5–10% more output as compared to rooftop systems.
Portability: Portability is a major feature of smartflower modules over fixed rooftop systems. It means if users move out, they can simply take the smartflower along. Dismantling smartflower is as simple as assembling it. All it needs is to unscrew the four anchoring bolts, and it is ready to move. 
Safety: When the smartflower operates during the day, the sensors keep monitoring the wind speed. If wind speeds go above 54 km/h, smartflower automatically folds into its secure position to avoid damages. If the wind intensifies to 63 km/h or more, the unit takes up the secondary security position as it does at night. The sensors continue to work, and when the wind speed gets lower, the system unfolds again and starts generating electricity. 
Color Options: Smartflower modules are available in various colors such as classic pearl, trendy berry. In addition, the finely-structured and glossy surface makes it look appealing.
Consistent Production Capacity: Despite its lower coverage area, smartflower modules generate up to 40% more output as compared to a conventional rooftop system. Smartflower generates a consistent rate of energy throughout the day for effective application and energy consumption. On average, the system produces approximately 4,000 kWh output per year and can fulfill the average electricity requirement of a household in the central European region. The system achieves a certain degree of self-utilization of nearly 60%, which is a significant improvement compared to a rooftop unit. A traditional rooftop solar panel has an average utilization of around 30%. Also, Smartflower reduces output losses by up to 15%.
Smartflower Cost
Calculating the cost per watt is the ideal method to compare operating costs between a smartflower system and conventional rooftop solar panels. The installation costs of a single smartflower unit vary from $25,000 to $30,000. However, the average cost is around $27,000.
Theoretically, the operating cost is around $10 per watt or $10,000 per kilowatt. Though considering additional production the system makes (actual capacity 2.5kW), which is equivalent to a standard 4kW roof-mounted system, the cost comes down to $6.50 per watt.
In comparison, typically the price of a static ground-mounted system sans its tracking capability is around $15,000 with 4kWh capacity. On the other hand, a 4kW rooftop system costs a little less at about $13,000.
So, after deducting the 30% solar tax credit in the US, the price of a smartflower comes down to $7 per watt of gross DC peak capacity or $4.55 per watt for equivalent output. It is based on the assumption that a 2.5kW smartflower unit can produce as much electricity as 4kw of roof-mounted solar panels.
After considering the Federal Solar Tax Credit and other incentives, the actual cost of a smartflower units is somewhere between $17,000 and $20,000. 
Smartflower Installation
The smartflower is a kinetic all-in-one system, which comprises the monitor, inverter, and control system in the cabinet of the unit. This solar PV system can be delivered, assembled, and installed in an hour or two. Additionally, the installation of smartflower can be done in any open space, and electricity can be generated by connecting it to a home or office.
Before installing a smartflower, a free site assessment is carried out, including a shading analysis. During this assessment, the experts check out whether nearby trees or buildings may cast shade on the smartflower at some point during the day. The more unblocked or unshaded the installation site means higher access to sunlight, which is ideal. For installation and safety, there must be a minimum of clear area of 16 feet around the smartflower. 
Subsequently, design-build experts get to work to do the entire process of smartflower installation; starting from placement, operational programming, and connections to the building's energy distribution. The installer takes care of getting all the necessary permission and warranty applications for the site. If a smartflower system is for residential use, and because it has portability, there are no additional rules that govern the need for installation permits or code requirements more than the ones that are already in place. 
Thereafter, connecting the unit to a home or office building's electrical distribution system needs the skills of a licensed electrician. Additionally, considering that smartflower is a free-standing unit, with moving parts, the electrician or the installer need to trench up the installation site to connect it to the building's power supply. Then, the installer will put a concrete slab to attach the smartflower for a strong foundation by using a ground screw system. 
The next comes the Initial programming of the system, which is the work of a certified technician. 
Before confirming the full operation, an installer may need to test the system at high temperatures (e.g., as 104° Fahrenheit or as cold as -4° Fahrenheit depending on the existing weather conditions. At extreme temperatures outside of that range, the functionality of a smartflower may go down, but should not be permanently harmed.
The smartflower system has been tested under significant wind speed or hail conditions and has passed the test.
In high-speed wind conditions, the smartflower is designed to self-protect before any problem occurs. If the wind speed reaches 30 mph, the smartflower panels automatically move into the horizontal or safety position to allow the wind to pass, though it still keeps producing energy. If the wind speed goes up to 39 mph or higher, the panels will automatically fold up and down into the second safety position. If a smartflower has been properly installed, it should stay in its closed and safety position, even in hurricane-level wind speed. This system is particularly useful in the US states where hurricanes and tornadoes hit quite frequently.
The installer will also give a briefing about the smartflower's tracking movement during the day and its self-cleaning process. Especially for the winter season, consumers should know that the smartflower can remove snow before it builds up. If there is heavy snowfall and snow builds up during the night while the smartflower is closed, it may be necessary to remove the snow in front of the closed unit before the panels start operating in the morning.
During the installation, warranties apply, and for proper installation, a certified technician should check each unit, despite being fully assembled before delivery. Placing the system may require a large forklift or crane.
If consumers are interested in a solar system that can be easily installed, ground-mounted, and moved and not concerned about meeting 100% of a home or office building's electricity needs, the smartflower could be a good option.
In the US, for example, a number of smartflowers have been installed throughout the country, including at the Detroit Zoo, State Street, Massachusetts, Virginia Wesleyan University, Sorrel River Ranch Resort and Spa in Utah, and at the Mary Baldwin University.
Smartflower Efficiency
According to the inventor of the smartflower, the Austrian manufacturing company SmartFlower™, the system can generate 40% more solar power than a conventional photovoltaic panel. The integrated control panel compiles relevant data, such as energy usage. Subsequently, the system is made accessible to users through the smartflower mobile application. Each petal of the smartflower is rear-ventilated, and they have brushes which can self-clean the panels every time they unfold and refold. The smartflower is installed for optimal function and efficiency, and can easily be relocated if the consumer moves to some other place. 
After the sunrise, as the sun moves throughout the day, the integrated tracking system in the smartflower rotates and follows the sun on dual axis. It ensures a constant optimal angle for maximum energy production and efficiency throughout the day. Conventional solar panels are usually fixed, and thus only get minimal optimal positioning if installed correctly. When the sun goes down, the smartflower folds up the petals and cleans its solar petals in the process. Similar to a flower, the system rises with the sun by unfolding the petals pretty wide to catch the rays, and again keeps tracking it across the sky throughout the day.
Depending on the location, a smartflower can generate between 3,800 and 6,200 kWh of solar electricity per year, which is as stated earlier, nearly 40% more than conventional solar panels produce.
The following is a comparison of efficiency between conventional solar panels and the smartflower in two French cities — Lille and Nice:
 
Conventional Solar Panels
SmartFlower Solar Panels

Power

2.5 kWc

2.5 kWc

City
Lille
Nice
Lille
Nice

Production capacity

800 kWh / kWc

1500 kWh / kWc

+40%

+40%

Annual production

2,000 kWh

3,750 kWh

2,800 kWh

5,250 kWh
Source: en.selectra.info
A smartflower can produce between 9 and 18 kWh of electricity per day during the peak time, which is enough to charge a smartphone more than 2,400 times, drive 100 km in an electric vehicle or watch 360 hours of TV.
The consumption of electricity at households depends on which heating method and installations consumers use, such as water heating, electrical appliances, swimming pool, driving electric cars, and others.
A smartflower can produce enough energy to make sure that electric self-consumption of a family of 4, excluding heating. A household in a 100m2 area should easily be able to fulfill its energy requirements (nearly 2,500 kWh/year) if the owners use natural gas for heating and cooking, and have a smartflower installed. 
The energy production of a smartflower, however, will not fulfill meet the same family's electricity needs (more than 17,000 kWh per year) if the family depends on an all-electric installation. This is why consumers need to make a careful estimate of their electricity consumption per year before buying and installing a smartflower.
Compared to roof-mounted solar panels, a smartflower is emerging as a futuristic solar system. The innovative design of smartflower and integration with advanced technology can increase the utility and efficiency of day-to-day activities related to energy consumption. For example, consumers can easily insulate their house in case the grid stops working. The smartflower provides 2.5 kW of solar energy and weighs around 1,477 pounds. When the system unfolds its 12 petals completely, it covers a surface area of 194 square inches, which is sizable. 
The smartflower solar panels can bend depending on the speed of the wind. According to estimates, a smartflower cost around $25,000-30,000 for installation. The return on investment in terms of efficiency makes it worth the amount.
Smartflower New Versions
Currently, there is just one smartflower or solar flower version available in the world. The Austria-based company has a long-term strategy to launch two additional smartflower models with new features. For example, one new version would be the Smartflower PLUS, which will have the same capability of generating solar electricity similar to the standard Smartflower. In addition, there will be an integrated battery that will provide 6 to 13 kWh of energy storage. 
It was expected to be available to U.S. customers in early 2018, but the actual implementation is still not known. 
Smartflower for Humanitarian Projects
There are projects like cleantech startup have been initiated to get people the benefits of innovative and cost-effective solar systems like smartflower. Currently, many homeowners, commercial enterprises, and municipalities are part of such projects. Due to its mobility, smartflowers are also generating interest among other target groups. Even people living on rent can install a smartflower system in their garden if they have an approximately five times five square meter area available. They can re-install the system again after moving elsewhere. 
In more remote areas like a mountainous region or developing countries, a smartflower can be an ideal device for power generation, as its plug-and-play feature can work as a standalone solution. Moreover, in those areas, users do not have to depend on an available electricity network. Particularly, for using smartflowers in developing countries, the designers of the company are currently working to determine a reasonable price. 
Also, the smartflower team is researching on a new variation of the system that is specifically aimed at humanitarian efforts to help users get renewable energy in remote areas. For this purpose, the existing model weighing of 1,000 kilograms needs to be reduced to somewhere around 250 kilograms, so that it will be easier to pack the smartflower system in a box and dropped by parachute. For these projects, the researchers at smartflower are working on the subject of lightweight design and construction by using special materials like carbon. The designers are experimenting to determine the best alternative so that they can subsequently produce the optimal model.
Recognitions
The smartflower PV system has received the following recognition or awards over the years:
2015:

Sustainable Entrepreneurship Award in der Kategorie, Klima, Umwelt & Energie.

2015:

Advantage Austria: Austria's Born Global Champions in der Kategorie" Renewable energies.

2016:

Red Dot Design Award, Produktdesign 

2016:

Regionalitätspreis Burgenland

2016:

Green Good Design Award, des Chicago Athenaeum in der Kategorie "Research/ Technology." 

2017:

Energy Globe Award, Burgenland.
The Future of Smartflower
Sustainable ways of thinking and implementing innovatively designed smartflowers had brought about positive changes in the renewable energy industry. SmartFlower™ carried out manufacturing in Austria using high-quality materials so the devices can generate electricity for as long as possible. 
Also, devices like this can create jobs in an emerging and futuristic solar industry due to the potential of such devices to reach out to average users. Smartflowers can redefine energy-efficiency of photovoltaic systems with a simple, efficient, and safe system. By using smartflowers, more people can generate their own clean electricity for their households. In this way, cities, communities, and companies will become independent from spiking energy costs to a great extent. 
As stated in an earlier section, the smartflower systems have been successfully for humanitarian reasons in remote areas. Large-scale production and installation of these systems will ensure energy accessibility at low cost for people in developing countries as well. To make such renewable projects successful in the future, regional support is essential so that distribution channels can work efficiently with fast reaction times. This will further pave the way to a consistent and sustainable future. 
The future of SmartFlower™ is, however, still unsure because the company filed for bankruptcy on November 17, 2017. The company had outstanding debts of nearly 5.2 million euros to 20 creditors, and its sales were not enough to cover the costs. 
Even though the Austrian SmartFlower™ went bankrupt, the U.S. version is still into operations and selling smartflower units in the country. 
The US SmartFlower™ was also planning to start manufacturing the units there, though there are no further details about the manufacturing plans. According to the last update, the production was supposed to begin in a "New England state."
Related articles about ...
Sources
https://regiowiki.at/wiki/Smartflower
https://en.wikipedia.org/wiki/Solar_tree
http://smartboxpanama.com/data/documents/Smart-Flower-Brochure.pdf
https://www.solarreviews.com/blog/comparing-smartflower-solar-panels-axis-tracker-and-fixed-rooftop-solar
https://www.curbed.com/2018/9/11/17845638/solar-panel-power-smartflower-united-states
https://solarlove.org/smartflower-outperforms-solar-panels-40-supposedly/
https://smartflower.com/
https://news.energysage.com/smartflower-solar-complete-review/
https://www.solar.com/learn/smartflower-solar-comprehensive-review/
https://en.selectra.info/energy-france/guides/electricity/smartflower
The Editorial Team at SolarFeeds is made up of knowledgeable solar industry insiders and experts who have a passion to share valuable, helpful and educational information. Aiming at becoming the best place to learn solar, the publication partners with industry thought leaders, journalists and influencers. If you want to publish your articles on SolarFeeds Magazine, click here.