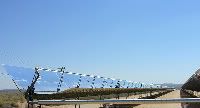 I had a wonderful chance encounter the other day with Melinda Keller, a professor of engineering at California Polytechnic at the SantaBarbara Summit on Energy Efficiency. It seems that she specializes inCSP (concentrated solar power) – and is tackling what is arguably itsthorniest problem: cooling. CSP does best in the desert, but that'swhere cooling is the toughest. How efficiently can you cool a fluid byblowing 115-degree air past it?
Unfortunately, she couldn't tell me the exact nature of her project,as it's funded with private money by a group that wants to keep the work under wraps at this point. But she asked, "Just ask yourself: What'scold in the desert?"
How intriguing! "The air at night? Underground?" I probed.
She smiled mysteriously. Looks like I'll have to wait to get my answer.