SunPower Successfully Retests March Lows (SPWRA)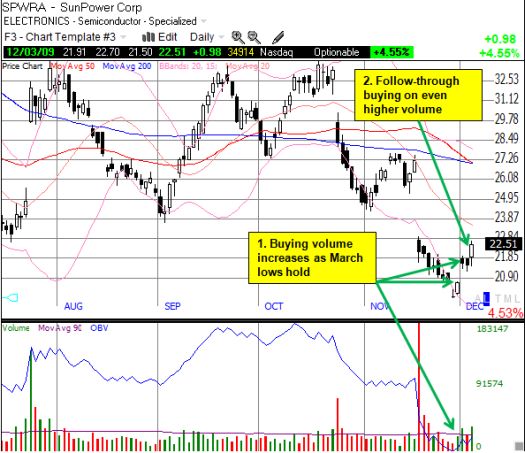 Over thelast four days, Sunpower Corporation (SWPRa) completed a successfulretest of the March lows (intra-day low of $19.70, closing low of$20.91).
The next price target is around $26.25 with a close of the gapcreated by the news of accounting irregularities at its Philippine manufacturing operations.This price level will likely meet with heavy resistance and sellingpressure as both the 50-day moving average (DMA) and 200DMA areconverging there. The chart below shows the high-volume buying off thebottom. I have now added to my position in the stock.
Be careful out there!
Full disclosure: long SPWRa
*Chart created using TeleChart:
Related::::
Dr. Duru Dr. Duru attended Stanford University, receiving a B.S. inMechanical Engineering, an honors degree in Values, Technology, Scienceand Society, and a Ph.D. in Engineering-Economic Systems (nowManagement, Science, and Society). He has done some independentconsulting in mathematical modeling, slogged through management consultingin product development and technology strategy, and is now pounding thepavement helping companies to improve the monetization of onlineadvertising through analytic software and rigorous analysis.
Search 26k+ Solar Articles
Contributors
Find Reviews of
Local Solar Installers