GoSolar USA and Xiamen Solar Electronics have joined up to develop of the revolutionary Volt Solar Charger accessory for the Apple iPhone. Tyson Rohde CEO of GoSolar USA said, "I'm pleased to say that we're developing a strong partnership with Xiamen Solar Electronics. "We feel that XSE is an ideal partner for GoSolarUSA because the VoltSolar Charger represents a true breakthrough in applying renewable solar energy to the world of consumer electronics. We are very impressed with the device's worldwide sales potential. With Verizon Wireless, thelargest mobile phone provider in the U.S., strongly rumored to bepreparing to offer the iPhone to subscribers, we anticipate the growthof new Apple users to accelerate in the coming years."
The Volt Solar Charger is an external battery packthat attaches to the iPhone and extends its battery life using atop-of-the-line, built-in solar panel. The Volt is capable of harvesting solar energy to charge all versions of the Apple iPhone with the samedevice. By capturing free, renewable solar power, the Voltrecharges theiPhone's battery first before charging its own internal battery, nearlydoubling the smartphone's talk time. The Volt includes a larger batterythan its competitors and is the only iPhone battery pack known to thecompany to include a reception corrector.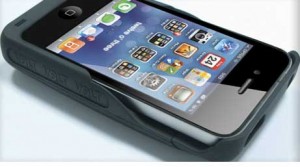 With so many iPhones in circulation, abattery pack such as the Volt has the potential to make solar energy apart of the daily lives of millions of North Americans. North America is the world's largest market for Apple product accessories, andGoSolarUSA has been active in funding new accessory technologies forcommercialization. In 2010, GoSolar USA inked a profit participationagreement with the PREE Corporation, developers of the PREEchargeaccessory for the iPhone and iPad.