I mulled buying a solar stock (the smaller and more Chinese thebetter) late last week in anticipation of the speculation that happensthis week, almost like clockwork – year after year. We just mentionedin a previous post:

Buteven more important than the market is what happens in individualstocks … the most speculative of fare generally does well thisweek…. in this current era that means solar stocks,dry bulk shippers, Chinese small cap names, biotech names which don'thave a chance to make a profit until 2027, and perhaps even the big 3 -Fannie, Freddie, and AIG. This is the week completely nonsense type ofstocks surge 18% in a session followed by 14% the next day.
And LDK Solar (LDK) is lighting our fire with a "better than expected" earnings report, (beat by 37 cents) and raised guidance.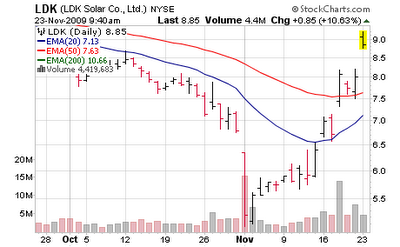 Chinese solar wafer maker LDK Solar Co Ltd (LDK.N)reported a surprise third-quarter profit and guided towardsbetter-than-expected fourth quarter sales and sequentially highershipments.

For the fourth quarter, LDKforecast sales between $280 million and $310 million, way aboveanalysts estimates of $258.7 million, according to Thomson ReutersI/B/E/S.

LDK now joins a growing list of Chinese solar companies that have signalled an uptick in demand.

Forthe third quarter, LDK earned $29.4 million, or 27 cents per Americandepositary share [ADS], compared with earnings of $88.4 million, or 77cents a share, last year.

Sales, which nearlyhalved from a year ago, however rose nearly 24 percent sequentially to$281.9 million. Analysts on average were looking for a loss of 10 centsa share, on revenue of $277.2 million, according to Thomson ReutersI/B/E/S.
And in this sector, when one goes – they all go, as the student body rushes in. TickerSpy has a list of all the Chinese solars here… there ain't (sic) no party like a Solarfun Power (SOLF) party.