Slowdown inGermany? Italy cutting solar subsidies 6-10%? The Czech Republictrimming subsidies? A deterioration in ASPs (average selling prices) inthe second half of 2011? A huge follow-on offering of 3.5M ADS (American Depository Shares) in which insiders are cashing in on 43% of theshares? Jinko Solar (JKS) mentioned all these potential headwinds inMonday morning's earnings report and conference call. However, none of them mattered in the face of a substantial beat ofexpectations for the third quarter, a large increase in guidance for the fourth quarter, and reassurances that demand looks strong going intothe first half of 2011. Greentech Media provides a good summary of thefinancials in "JinkoSolar Racks Up Record Strong Q3, Beats Guidance." JKS provided the following robust outlook (guidance for 2011 will comeduring the Q4 earnings report around February 4, 2011):
"Based on the current operating conditions, the Companyraises its full year 2010 total solar product shipments guidance to anestimated range of 448 MW to 458 MW, from its earlier guidance of 395 MW to 415 MW, with module shipments expected to be in an estimated rangeof 257 MW to 267 MW for the full year 2010, as compared to its earlierguidance of 195 MW to 205 MW. The Company also raises its full year 2010 revenue guidance to an estimated range of US$638 million to US$648million, as compared to its earlier guidance of US$500 million to US$525 million.

The Company expects to increase its in-house annual silicon wafer,solar cell and solar module production capacities to approximately 600MW each, as compared to the original guidance of 500 MW each by the endof 2010. "
Management also mentioned during the Q&A that it will use some of the proceeds from the follow-on offering to finance an expansion ofcapacity to 1GW in 2011.
JKS is rushing to ship product in Germany by November 15 to satisfydemand trying to beat the expiration of generous subsidies. Capacity is98% sold out for Q1 of next year.
The market responded dramatically to these results. JKS jumped up asmuch as 24% at its highs on Monday, before settling for a 17% gain. Thetechnicals have all the makings of a breakout for a fresh run to higherprices. The set-up remains bullish as long as JKS does not retrace allits post-earnings gains in the coming week or two. Valuations alsosupport upside potential with a forward P/E of 8, price-to-sales of 1.7, and a price-to-book of 2.8 – although it seems the market is notwilling to pay a valuation premium for polysilicon players.

(Click for larger view)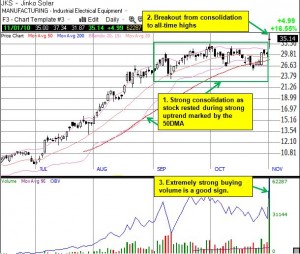 A strong post-earnings breakout for Jinko Solar
Some of the record trading volume of 6.2M shares was likely shortcovering. As of October 15, short interest in JKS reached all-time highs for the company's short six months trading on U.S. exchanges.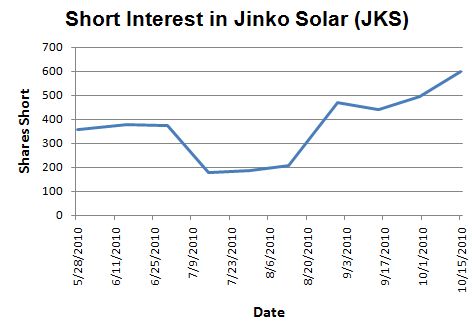 JKS short interest surged ahead of earnings
Source: NASDAQ

Interestingly, First Solar (FSLR) reported a story similar to Jinko Solar's story and experienced a sell-off. One key difference is that JKS was able to tell a very good margin story:
"Gross margin was a record 33.5%, compared to 26.9% forthe second quarter of 2010 and 15.8% for the third quarter of2009…mainly due to an increase in the ASP of the Company's solar modules and a further decrease in average non-silicon cost as the Companycontinues to benefit from the vertical integration of its productionprocess."
JKS was also able to report much higher quality earnings that it did last quarter. At that time, JKS reported $11M in income from the change in value ofderivatives used to hedge currency risks. This was almost 50% of netincome. This time, JKS recorded an $11M loss as the euro gained againstthe renmimbi, but the company was still able to report a net income of$38.8M. In other words, backing out the hedging volatility, net incomegrew about 377% quarter-over-quarter.
JKS managed to triple cash levels even as net receivables increasedby 2.6 times from the end of 2009. I will be watching how quickly thesereceivables are liquefied into income (cash). Advances to suppliers(third party) are a bit worrisome: they quadrupled from the end of 2009. (I made all calculations based on the reported RMB). I suspect thisline item has surged because of the company's current press totransition into a vertically integrated solar player, but it represents a large risk to the balance sheet at 87% of cash.
On balance, JKS had a relatively strong report. Assuming the reaction to the follow-on offering remains benign, the stock should still havemore upside going into earnings next February. (Reminder: stockmarket-related risk is high right now given extreme overbought conditions).
Be careful out there!
Full disclosure: long FSLR