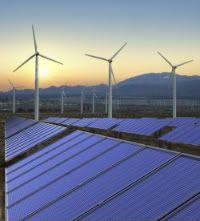 I had a chance conversation with NickRoberts, VP Sales of GlobalNES recently – a companyin renewables that boasts an interesting angle.
GlobalNES offers to arrange financing for, engineer, and install arange of commercial-sized clean energy systems – depending on thecustomer's location and thus its access to resources, oftenincluding solar, wind power, geothermal, grey water reclamation, energyefficiencies, LED lighting, hydro technologies and fuel cellapplications.
The typical project is in the hundreds of kilowatts – perhaps a shopping center, an industrial park, or some facet of a municipality.
I find two things interesting about the company:
They perform a comprehensive ("360-degree") set of work actionsvirtually – that historically have required a traditional workplaceenvironment. Practitioners sign up to be a part of Global NES infar-flung geographies, and then tap into veins of expertise andproduct/service delivery capability that are plugged in as required:
Assess Energy Performance and Needs
Analyze and Design
Customer Proposal
Project Implementation
Sustainability
This strikes me as quite creative.
The other interesting facet is that the company aspires to build abrand so strong that customers – and new people in the field – seek them out, and form an ever-increasing network of delivery.
Keep up the good work, guys.