Famousshort-seller Dick Chanos visited the CNBC set on April 14 and talkedabout his expanding list of targets that includes alternative energy,especially First Solar (FSLR). In response, the stock dropped 2.7% thatday and did not stabilize until the stock lost almost 10% over thecourse of a week. Directly ahead of another earnings announcement (May3), I think it is worth visiting Chanos's list of charges against FSLR.
Chanos's reasons to short solar stocks and First Solar in particular:
Austerity in Germany, Italy, and Spain
Solar cannot do baseload power – solar costs 3x coal and natural gas plants
Enormous insider selling – the chairman has gotten rid of most of his stock in the last year and a half
Lots of people are leaving (most of the executive suite)
Chanos says that the last two points create a pattern that short-sellers love.
At the risk of being the mouse squeaking at the lion, I will take some issue with Chanos's thesis regarding First Solar:
So, while I am not convinced by the case Chanos presents, I am alsonot pounding the table to buy FSLR ahead of earnings. We already knowthat most solar companies that have reported or guided this quarter have produced lackluster to disappointing results for their respectivecompanies and/or the general solar market (see LDK Solar, Evergreen Solar, ReneSola and SunPower). We have to assume FSLR will do the same or similar. Based on earlierpost-earnings reactions, we know it does not take much for sellers todescend upon FSLR in sight of the slightest blemish on FSLR's results. I think such weakness will be another one of those ideal buyingopportunities that I look for in solar stocks.
Dick Chanos has plenty of company although shares sold short hasremained relatively steady for about five months after a quick ramp from 2010?s bottom in shares short. Today's 16M shares short represents a whopping 33% of FSLR's float.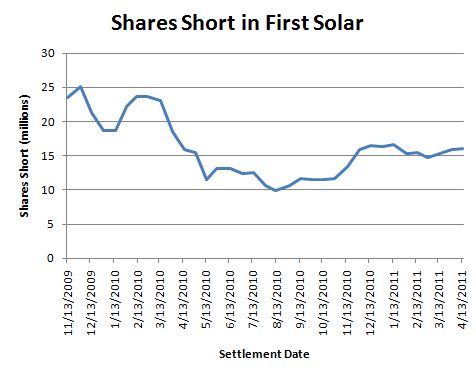 Shares sold short in First Solar are high but down from the even higher levels in 2009
Source: nasdaq.com

The chart below summarizes the current technical picture (snapshot from Monday morning). Note that in February FSLR exceeded my upside valuation range of $162, getting as high as $175 partially on the boost of a Goldman Sachs upgrade. My downside floor remains $105 with an anticipated trading range of $120-150.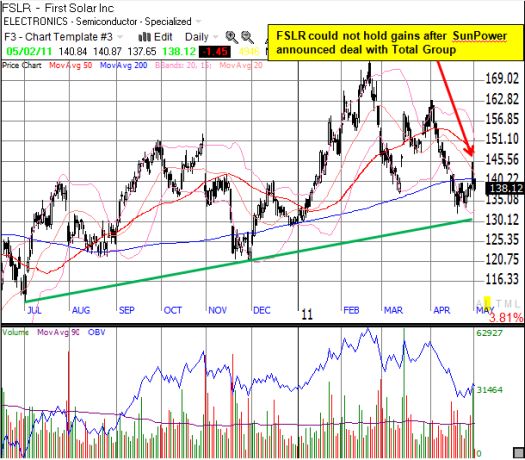 FSLR has trended upward since last summer, but it has been a very rocky ride
Be careful out there!
Full disclosure: long FSLR, ESLR, and LDK