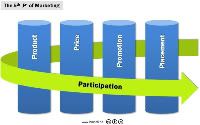 One of my most important jobs here at 2GreenEnergy is speaking withthe few dozen people who call or write each week looking for help withtheir clean energy projects. I conduct these interviews with an eyetoward helping out in some fashion in any of the wide range of disciplines that is represented by our Associates: engineering,IP protection, raising capital, etc. But in truth, my first thought isto look at the caller's problem as a marketing challenge. In the wordsof a friend of mine, "I've never seen a business problem for which moresales revenue was not the solution."
In particular, I find myself repeating the same advice: conductmarket research. Whether you do it yourself or outsource it to ateam like ours, you need to find a rigorous, disciplined way to develop a profound understanding of your target customer segments.
Establish market demand — by segment. What do varius kinds of peoplewant? Why do they want it? How and where do they want to buy it? How are their workstyles and playstyles changing in ways that are most relevant to the matter at hand? What are the gut-wrenching emotional issues that are keeping them up at night – and how does what you're offeringaddress those topics?
I was looking at an old project database the other day and had arealization that made me feel kind of, well, old. Since Istarted out in the early 1980s, I've done more than 800 market researchprojects — for clients on five continents: IBM, H-P, Sony, 3M, Xerox,Philips, Pioneer, Magnavox, Mitsubishi, Porsche, AT&T, FedEx – notto mention hundreds of smaller, venture-capitalized start-ups and thelike. From those research efforts were sprung some of the mostwell-known – and (at the risk of appearing immodest) most successful,highest-ROI campaigns the business-to-business marketing world has evenseen.
If you'd like to discuss your venture in the context of marketresearch, please don't hesitate to contact us; we'd love to chat aboutyour specific mission.
In fact, feel free to call right now: 805-693-1017. I'm in theoffice all this week — on and off the phone — as usual.