The sight of overflowing council-provided rubbish bins in public areas could bea thing of the past, thanks to solar power.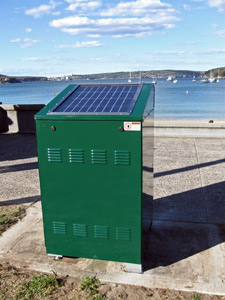 USA company BigBellyoffers a patented compacting rubbish bin that is completely solar powered. Theunits are around the same size as a normal bin but can handle 5 times therubbish, thanks to a unique compacting system. The company claimsincreased capacity reduces collection trips and can cut fuel use and greenhouse gas emissions by 80%.

In US terms and depending on collection frequency, BigBelly states a standard bincosts between $7,300 and $30,000 over its lifetime, whereas BigBelly lifetime operational costs are significantlylower; somewhere between USD$6,000 and $12,000.

The fully portable bin incorporates a 30 wattPV Solar Panel protected by a polycarbonate bubble. The compactor is driven by a 1/6-HP DC gear-motor exerting a force of 1250 lbs. (570 kg).The DC motor is powered by a 12 Volt deep cycle battery maintained by asolar regulator that controls the charging level.
The bins have an additional wireless communications feature whereby the unit can"call home" via SMS text when it is approaching capacity. This cansave on additional emissions and expenses involved with picking up bins thataren't full. LED indicators on the bin provide a visual checking mechanism. Theunits can also incorporate modules for separation of recyclable materials.

Materials used in the construction of the bin include galvanized sheet metal steel interior and exterior(recycled content), heavy duty plastic side panels for dent and scratch resistance(also recycled content) and the hopper is made from leak proof low-density polyethylene plastic.