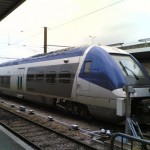 Two weeks ago ,I wrote about how Eurostar, the company responsible forrunning much of the Channel's rail traffic between England and France,planned to invest a sizable sum for the purchase of several high speed electric trains from the German engineering firm Siemens. While the announcement came as a bit of a shock for certain Frenchofficials, many others rejoiced in the news that Eurostar was planningon bolstering their green transportation portfolio. In a similarannouncement, Amtrak has stated that they are now planning oncommissioning several electric trains from Siemens in order to beginoverhauling their own fleet.
Amtrak, the largest intercity passenger rail company in the UnitedStates, has been operating under government control since it was founded in the early 1970s with little interest in green transportation.However, Amtrak officials announced at the beginning of the month thatthey were planning on purchasing seventy brand new electric locomotives from Siemens AG for $466 million. The particular locomotive that Amtrak is planning on investing their money in is the Amtrak Cities SprinterACS-64. According to Amtrak, the company is planning on operating thenew locomotives exclusively on their Northeastern lines where they willbe phasing out previous locomotives that are nearly twenty or thirtyyears old.
The Amtrak Cities Sprinter ACS-64, while by no means as fast as otherelectric rails found throughout the world, will still be among thefastest of Amtrak's trains. According to Amtrak officials, they areplanning on running the new locomotives as speeds 110 to 125 miles perhour depending on the particular line the locomotive will be running on. For example, the trains traveling along the Northeast Corridor betweenWashington D.C. and Boston will be running at approximately 125 milesper hour on average.
Although the purchase of these new trains is being hailed as anexcellent move by Amtrak into green transportation, they are also beingthanked for the jobs they intend to bring while this contract iscompleted. According to Congresswoman Doris Matsui of Sacramento,California, Amtrak was urged by her office to choose Siemens for thecontract due to the rather large plant the company has in Sacramento.The contract is expected to bring in nearly 250 new jobs to the Siemensplant on top of the 700 employees who are already working there. TheCongresswoman also believes that this contract could further helpdevelop Sacramento's clean technology portfolio, a goal she has hadsince she was elected into office in 2005.
Considering the fact that the rest of the world has been converting tohigh speed electric trains for some time now, it is good to see theUnited States beginning to upgrade their systems in order to increasethe nation's green transportation numbers. While we may be far fromdeveloping rails that see as much use as those in Europe or China, forexample, it would be nice to see if developments like this could helpspread support for rail in the United States.